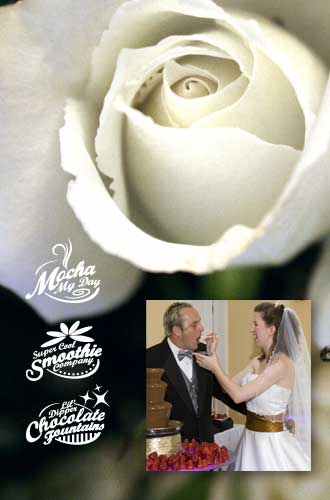 Atlanta Loves Our Wedding Services!
New traditions begin here
As your begin your new life together, it is important to establish enduring family traditions as soon as you can. We all have wonderful memories of family get-togethers throughout the years, and will cherish those vital and endearing times for the rest of our lives.
Our special opportunity waits for you!
At your wedding reception, you have the wonderful opportunity to establish your own unique tradition. Simply hiring us to be a part of your special day might turn into something that you might consider using throughout your lives together for your own family celebrations. A chocolate fountain is a wonderful addition to any birthday or anniversary celebration.Smoothie bars are great for pool side celebrations. Mocha bars or coffee bars are fantastic for festive occasions through out the year. Click on any of our logos to find out more.
Exclusive Lifetime Discount for Brides
If you hire any of one of our services for your wedding reception, we are proud to offer you a very special lifetime discount. We will add you to our golden list of brides, and whenever you use us in the future, you will receive a 10% exclusive discount! We will keep this golden list on file, and all you have to do is mention that we catered your wedding. Call us or email us to find out more!