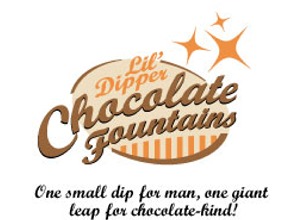 Our professionally-catered chocolate fountain presentations are light years ahead of the chocolate fountain rental "space race."
Renting a chocolate fountain on your own, doing all the messy set and take down, and using whatever cheap chocolate you can find to get it running (just like that picture you saw in the magazine) is a little like trying to launch a sophisticated space rocket in the middle of the ocean with a single match. Why not let the pros at Lil' Dipper Chocolate Fountains Atlanta help you get your party off the ground with the greatest of ease?
Request a quote for pricing right now!
Lift off here for our Facebook page!
With Lil' Dipper Chocolate Fountains working as "mission control" you'll have everything you need to make your flight into chocolate heaven a certified success!

To begin your journey into chocolate fountain bliss, we'll provide you with a professional and friendly human assistant to perform set-up, maintenance, take down and more. We'll also give you the finest French chocolate on the planet for your "fuel" and all the tools, utensils, limitless dipping items, and everything else you'll need to guarantee a successful "no worry" chocolate fountain launch. So get ready for the chocolate fountain ride of your life! We're simply a phone call or email away!
At Lil Dipper Chocolate Fountains, we want to be the center of Atlanta's chocolate fountain universe.
Please use our Chocolate and Coffee Resources page as a resource for everything chocolate fountain so you can make an educated decision based on your specific chocolate fountain needs. Explore, discover, and enjoy the wonderful, mysterious world of Lil Dipper Chocolate Fountains.
For the best in chocolate fountain catering in Atlanta, Let Lil' Dipper Chocolate Fountains fill the void.
Chocolate fountains are great for weddings, grand openings, birthdays, anniversaries, and more. Discover the finest chocolate fountain service in Atlanta! Simply call 770-664-1634 or use or complete the form below to receive a quote and other important information.
[si-contact-form form='4']